Technology in the classrooms
For a more effective and fun education
Colegio Alemán in Zaragoza has a wide variety of applications and devices that facilitate the implementation of technological tools within the educational methodologies.
The use of technology in the classrooms makes educational tools more interactive, which keeps students' attention for longer and makes them more enthusiastic about learning.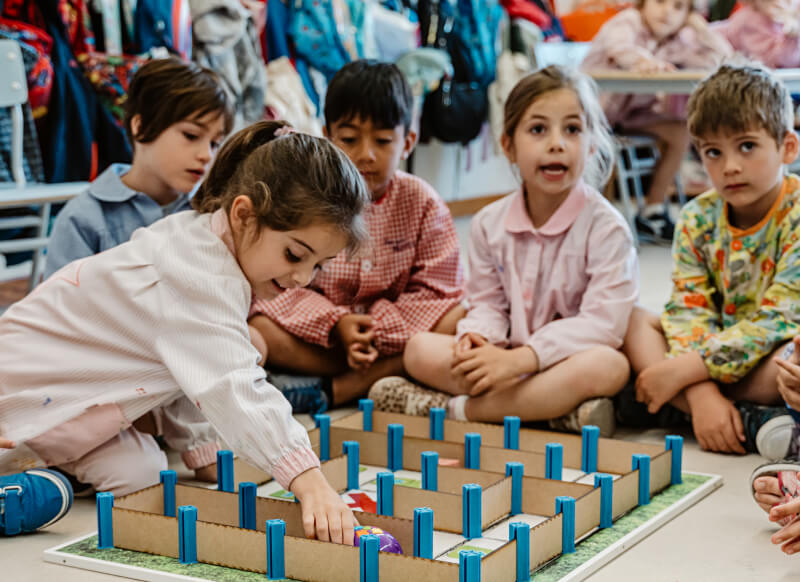 STEAM Skills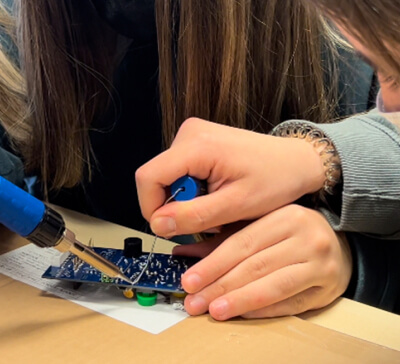 Escornabot
3D printing and design, welding, assembly and programming.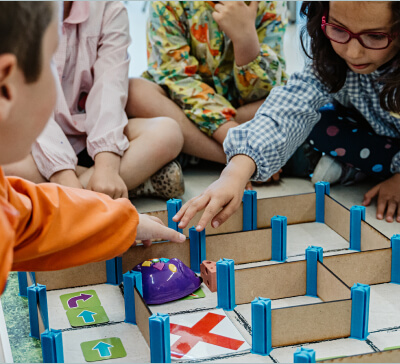 Jack, the explorer mouse
For Pre-School and Primary School, concepts of logic, teamwork, problem solving.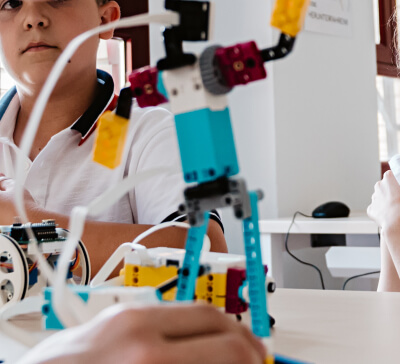 Lego
Mechanical creativity, application of actuators and sensors, basic programming and its application.
Micro bit
Fundamentals of programming and electronics. This little brain allows us to work on programming and robotics from the most basic levels to solving mathematical problems or creating video games.
Home-automation model
Welding, architecture, applied home automation, sensors and actuators. A classic tool that allows us to apply curricular concepts that are better understood by putting them into practice.
Roomba robot
Product creation, design, 3D printing, advanced programming, etc. A global project to facilitate the creative independence and the "maker" spirit of our students.
In primary school
Introduction to robotics
The most natural way to do this is through soft and creative skills, which allow students to associate with previous activities, such as arts and crafts or creative drawing.
3D printer opens up new opportunities and fields to explore
Students begin training in virtual environments for 3D manipulation and design and print educational robots such as Escornabot.
In Secondary School
They have innovative welding equipment and work on the creation of mechatronic products, from home-automation models to autonomous robots.
With Lego robotic kits we simplify the stages of ideation, creation, construction and programming. Its value lies in the fact that it allows them to learn the basics and the use of tools, making them familiar to them on a daily basis.
Admissions and new students
Do you want to be part of our big Family?
Request information for the next academic year and secure your place at our school. Arrange a guided tour and a meeting with our teaching staff.
Noticias relacionadas
Los alumnos de 1º de Primaria se han iniciado en el mundo de la robótica con un nuevo amigo… ¡Kubo! Tras varias semanas realizando actividades en la asignatura "Proyecto" para familiarizarse con el pensamiento computacional y la programación, han puesto a prueba los conocimientos adquiridos con Kubo. Gracias a este robot educativo, los alumnos conocen…