Colegio Alemán
Colegio Alemán is a private, non-subsidised, secular school in Zaragoza
There are approximately 625 students between the ages of 2 and 18 years old across Pre-School, Primary School, Secondary School and Bachillerato*.
The school is located within a residential development and is managed by the parents through the non-profit German School Cultural Association.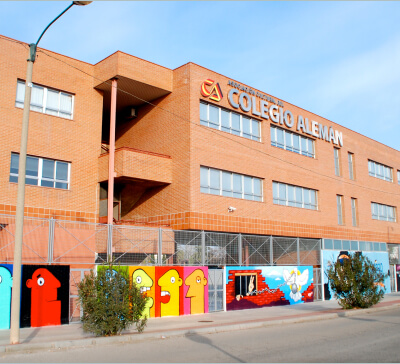 Historical identity
Learn about the origin of the school, its history and the aims of the Association.
Management team
Find out more about the management team at Colegio Alemán.
Formulation of objectives
The German School Cultural Association, owner of Colegio San Alberto Magno excludes material gain. This is extremely important since it determines the economic decision-making model.
Human and cultural objectives are those that do not refer specifically to knowledge of technical use, but to those that help the development of awareness towards the richness present in others and in their social group.
These are:
To be familiar with German cultural characteristics (customs, traditions, folklore, language, etc.).
To become independent enough to plan their work correctly.
To respect the different ideas, ideologies and attitudes that may exist in any social group with which one may or may not live, and to become aware of this as a first step towards achieving one's own dignity.
To learn the rules for dealing with others so as not to attack or feel attacked, even verbally.
To develop a critical thinking capacity that allows them to achieve solutions.
To keep concepts of order and discipline present. To respect and defend common property as if it were their own, starting with the school property.
To know and respect their rights and duties as a person, student, individual from Aragon, Spaniard, European and inhabitant of the Earth and apply them in the school environment.
To develop their creativity and self-esteem through individual and group work, learning that we can all help each other improve.
To mature as peace builders in their family and social environment.
This group is the focus of the objectives that the School seeks in the process of learning technical skills.
The School and those who work there try not to confuse intellectuality with the "intelligence" of each individual, a term that is not very descriptive and sometimes loaded with pejorative and even discriminatory intentions.
Acquisition of basic tools in the teaching process.
Independence in learning, individual motivation for knowledge acquisition.
Integration of the knowledge provided by the classroom into their personal maturity.
Development of inducing and deducing, as well as establishing one's own general principles.
Learning from mistakes and motivating them to look for the solution through trial and error.
Awareness of artistic expression.
To investigate political history and the history of thought so that they become the two tools to critically judge people.
Incorporating the sciences into their mindset and understanding of how organic and inorganic matter and their relationships are organised,
Knowledge of the logical description of mathematics and its use in all aspects of life.
Acknowledgement of each and everyone's intellectual capacities.
To boost cultural relations between Spain and Germany and, by extension, to all German-speaking communities.
To maintain a School to provide education in any of its classes and to learn and promote the German language. The main, but not the only objective of the school should always be to teach the German language. This objective will always be non-negotiable. All teaching assignments should be created with this in mind. The School guarantees that the German diplomas obtained are fully recognised by the German educational authorities.
The School will also work on the teaching of English as a second language at the highest possible level, taking advantage of its similarity to the German language, in order to provide its students with the most appropriate tools to integrate into a socially and professionally internationalised community.
The school will seek the highest degree of development possible for each of its students in all aspects.
The school will put into practice a secular and pluralistic education, without losing sight of the values that the society in which it belongs has developed.
Physical and mental health.
Independence, positive self-development.
Comprehension skills, using contents in their daily life.
Social integration, participation, belonging, solidarity.
Communication, multilingual skills.
Development of creativity.
Development of moral values
Values at Colegio Alemán in Zaragoza:
Respect for oneself and others. At the same time, this respect must be extended toward the facilities and material and non-material objects Respect is recognising authority and knowing how to accept rules and limits. It is to be tolerant with those who are different, accepting the diversity of ideas, opinions and ways of being.
Effort: it is the ability to face difficulties with the intention of overcoming them and reaching our objectives. It is closely linked to perseverance and discipline. It is the most appropriate way to achieve our goals.
Integrity, sincerity and generosity as fundamental conditions for human relationships, friendship and authentic community life.
Responsibility: Responsibility is the ability to assume and accept the consequences of an action or decision.
Entrepreneurship: To get our students to be able to look for new ideas to solve conflicts that may arise and are unknown until then.
Respect for the dignity and privacy privacy of individuals, the fight against all forms of discrimination, the promotion of effective equality of women and men, the guarantee of health and safety, and physical and moral integrity are fundamental rights of everyone at Colegio Alemán, which the German School Cultural Association is obliged to guarantee.
Noticias relacionadas
Los alumnos de 1º de Primaria se han iniciado en el mundo de la robótica con un nuevo amigo… ¡Kubo! Tras varias semanas realizando actividades en la asignatura "Proyecto" para familiarizarse con el pensamiento computacional y la programación, han puesto a prueba los conocimientos adquiridos con Kubo. Gracias a este robot educativo, los alumnos conocen…