Educational project
We encourage the growth of our students with the mastery of the German language from the age of two.
We prepare children with the best tools to succeed in any present and future context without language ever being a barrier.
This immersion in a language and culture different from their native one from such a young age will facilitate the development of their intellectual and cognitive skills, something that will allow them to attain great results in their studies.
All the staff at Colegio Alemán are committed to guiding and accompanying students throughout their learning process, making their time at the school an enriching experience that they will remember for the rest of their lives.

German makes
English easy
It has been proven that once the German language is mastered, English can be learned more quickly.
We provide families with an educational setting where students learn to function in Spanish and German simultaneously from the age of 2, through our own teaching methodology with proven success.
Come and check it out!
Here are 6 reasons why you should choose the educational
project of Colegio Alemán in Zaragoza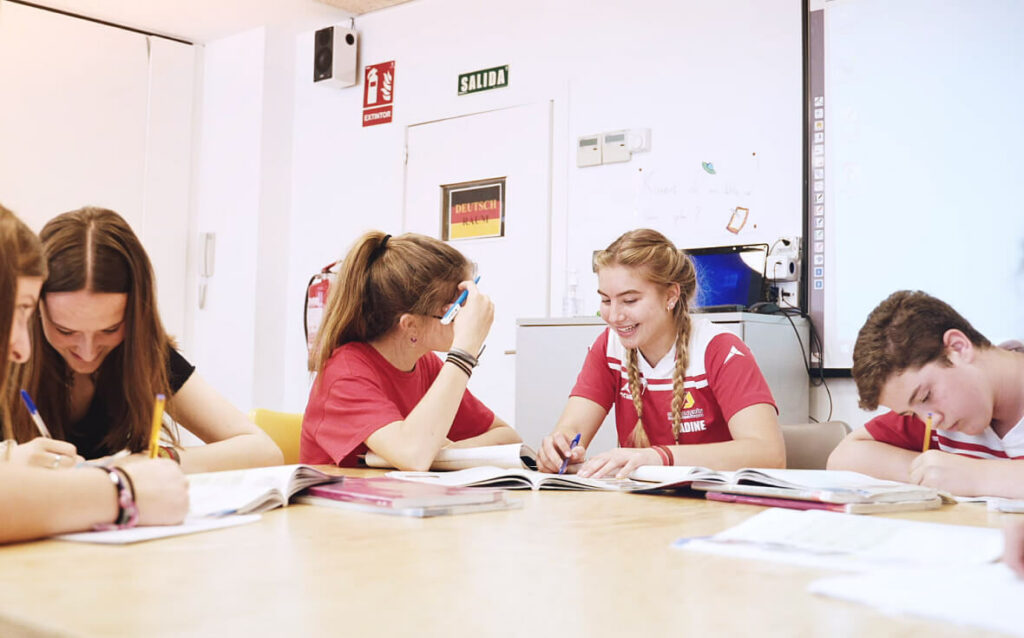 1
Immersion in German culture. They are 100% exposed to German from Pre-School.
2
Maximum involvement of the teaching staff > Educational innovation
3
Goethe Institut Exams:
Primary School A1 and A2
Secondary School B1 and B2
Bachillerato C1 and C2
4
Cambridge Exams:
Secondary School B1 and B2
Bachillerato C1 and C2
5
Internships in Germany in Secondary School and Bachillerato*
6
Excellent academic results
What are the students like at Colegio Alemán
Entrepreneurial
Collaborative
Ecological
Investigative
Creative
Communicative
Sporty
Supportive
Critical
Polite
Respectful
Student profile
Close your eyes and imagine that you are 17 years old, 18 if you are lucky, and that you have just finished school. Remember that.
Are they closed? Can you see it? That wonderful naivety. Very good. Think about how you would like to have been at that age, what you should have done and what you didn't do. Maybe your reality coincides with your desire, who knows, only you know. Now – are your eyes still closed? – Picture your son or daughter instead. How you would like them to be at that age, what they will be like as a person, what emotions will go through their body and mind, what desires they will have, what abilities, what dreams.
What professional future will they be heading towards, can you imagine it?
We have done this exercise at school: we closed our eyes and imagined it. What would we like our students to be like at the age of 18 after a journey of adventures and, almost certainly, misadventures – otherwise there would be no learning – at School? But we didn't keep our eyes closed, we opened them to look at the reality around us and we asked ourselves many questions – which is what we always encourage our students to do: to ask themselves many questions, to be curious and critical. What are they like now, this year, and what will those who are now three years old be like in fifteen years? Where are we headed? What is the horizon of expectations?
We see a student body that is amazed by the world, curious to know more about it, both from a scientific and humanistic point of view, that humbly recognises that valuable actions don't come easily, that they also have to be lived with effort and sacrifice, but that they are in their hands, that they depend on the respect and responsibility with which they take them on. That's how our students should be and that's how they will be. Responsible and critical thinkers, able to make the most of their talent, because each of them is full of talent, different talents, as everyone is different, but always open to the challenges of life. Talents and skills ready to take on a multitude of challenges. Conscious of their own emotions, with the same amount of entrepreneurship and resilience, with their feet in the clouds and their heads on the ground, supportive and generous, assertive, empathetic and masters of their time, committed to life, to nature, to this information society that is changing so much, to the future and to the challenge that awaits them. Can you imagine it? And then there is the naivety of being 18 years old. None of this would be possible without that naivety.
We don't imagine it, we know that this is what our students are like when they leave Colegio Alemán. We know that they speak German fluently, as well as English, and that they must continue to hone their Spanish language as a poet would, and if not a poet, as a scientist would. They are aware that knowing your native language well is knowing yourself. And that is one of the key things: to want to know oneself, to have a good self-concept, and then to want to know the world and its cultures, to communicate with it, to establish links, to be open, flexible, tolerant. The mechanics to be with other people, to work with others and to make a team, because we are also, each one of us, the other. And our students are naturally fully aware of this.
They are 18 years old and feel like they do just before an exam, nervous about what awaits them – it is inevitable – but they are confident because they have worked hard and are prepared, with their eyes wide open.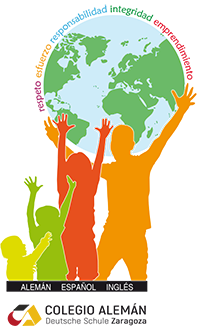 Noticias relacionadas
Los alumnos de 1º de Primaria se han iniciado en el mundo de la robótica con un nuevo amigo… ¡Kubo! Tras varias semanas realizando actividades en la asignatura "Proyecto" para familiarizarse con el pensamiento computacional y la programación, han puesto a prueba los conocimientos adquiridos con Kubo. Gracias a este robot educativo, los alumnos conocen…